Internationale Tagtool Convention
Live Zeichnen & Animieren mit Licht!
Performances, Präsentationen, Workshops
16.-18. August, Kunstwerkstatt Tulln
Programm siehe unten
***************************************
Seit mehr als zehn Jahren erleuchten Hausfassaden und Bühnenbilder in aller Welt mit spontanen Bildern, die live gemalt und animiert werden. Verantwortlich dafür sind Mitglieder der Tagtool-Community und ihre alternative Vision von digitaler Kunst. Sie arbeiten auf der Straße oder im Theater statt vorm Bildschirm, jammen wie JazzmusikerInnen, und suchen nach neuen Formen des visuellen Ausdrucks.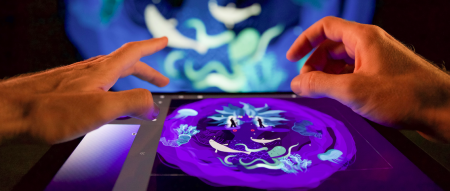 Bei der Tagtool Convention 2019 kommen Tagtool Künstler von 16.-18. August in die Kunstwerkstatt Tulln, um ihre Arbeit zu präsentieren und sich auszutauschen. Weiters gibt es Tagtool Workshops (für alle Altersgruppen) und öffentliche Performances. Als Höhepunkt präsentieren wir eine Aussenprojektion auf den Tullner Stadtturm (Schubertpark). Die teilnehmenden Künstler werden hier und auf unserem Forum tagtool.org angekündigt.

***************************************
VORLÄUFIGES PROGRAMM
Freitag 16.8.
15:00-17:00
Tagtool Workshop für Kinder (8-12J, kostenlos)
19:00-19:30
Eröffnung, Präsentation OMAi
19:30-23:00
Performances (tba; 10€ bzw. 5€ unter 22 Jahre)
Samstag 17.8.
10:00-12:00
Tagtool Workshop für Jugendliche (12-22J, kostenlos)
15:00-17:30
Tagtool Künstler präsentieren ihre Arbeit (kostenlos)
19:30-23:00
Performances (tba; 10€ bzw. 5€ unter 22 Jahre)
Sonntag 18.8.
10:00-12:00
Tagtool Workshop für alle Altersgruppen (kostenlos)
15:00-17:00
Tagtool Workshop für Fortgeschrittene (kostenlos)
21:00-22:00
Stadtturm Outdoor-Session (zum Mitmachen, kostenlos)
(Änderungen vorbehalten!)
***************************************
Hier das geplante Programm für die Performances bei Tagtool Convention:
16.8. FRIDAY – Starting 19:30
Maki, iink, Christian Reiner & Pi (AUT)
Dieter Puntigam, Bea von Schrader & Markus Saravia (AUT)
17.8. SATURDAY – Starting 19:30
TAM – Theatre of Animation Art (UKR)
Guiguisuisui[鬼鬼祟祟] (CHN/GBR)
Dima & Pan Kaplan (CZR, RUS)
Sofia Cordoba & Lorenzo Tabacchi (URY, ITA)
***************************************
Das war die Tagtool Convention 2018 in Linz:
***************************************
PARTICIPATING ARTISTS (English)
***************************************
Yaguar
We're excited to get confirmations by artists and ensembles who will join us at the Tagtool Convention 2019! Like last year, it is Yaguar who first chipped in to perform at our upcoming gathering in Tulln.
Guiguisuisui
Next to be confirmed at the Tagtool Convention is Guiguisuisui, a two piece art-rock performance band. Curated by Chinese artist Nan Guazi and her British husband, Guiguisuisui blends electronic and live sounds to create the backdrop for interactive theatre performances which feature a cast of characters from an imagined future and past.
At the convention they will present their Shining Soundscape project, a new live art musical performance from Guiguisuisui (鬼鬼祟祟) that combines both live digital video painting and improvised ambient music, to create a backdrop over which performance and meditative chanting combine with electronic music, in a meeting of minds and cultures. In this sense the whole performance environment becomes a canvas for the pair to create a saga using shining light, shadows, sounds, costumes and movement, with the audience being wrapped in the atmosphere conjured. What's more at key points the audience help make decision about which direction the performance will go in.
Instagram: https://www.instagram.com/guiguisuisui/
Facebook: https://www.facebook.com/Guiguisuisui/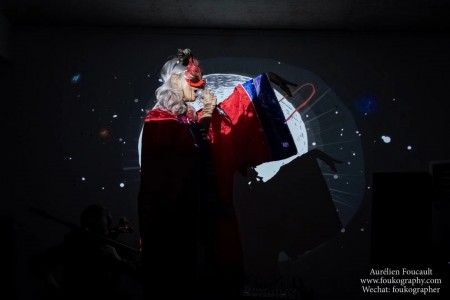 Sol Carta
Also joining us at the convention will be Sol Carta all the way from Buenos Aires, Argentina. She has been working with Tagtool for years, specialising on fully improvised performances – the origin of Tagtool. This is where we come from, so we are eager to cross pencils with her!
At the Tagtool Convention Sol Carta will be the representation of Lila, a project with Juane Costa (guitar) and Ignus Zavalla (drums). In Lila music and visuals are created in an improvised way. Sol Carta uses Tagtool to tell visual stories by combining photographic collage, live drawing and animation. For the convention she will come up with a solo performance, based on the spirit of Lila.
Facebook: https://www.facebook.com/lila.improvisacion/
Instagram: https://www.instagram.com/lila.impro/
Bandcamp: https://lilalila.bandcamp.com/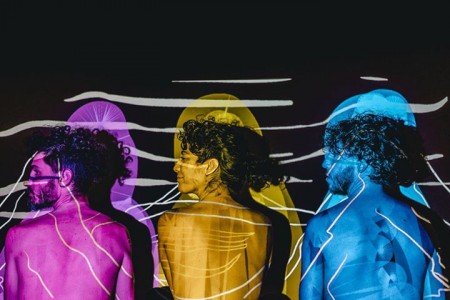 Blueprint of a tempest
Good news everybody! We'll have our friends Dieter Puntigam and Bea von Schrader with us again at the Tagtool Convention. This year they will bring along light graffiti artist Marcus Saravia and present their latest project, "Blueprint of a tempest". This piece is dedicated to the youth movement fighting for our environment. The performance is accompanied by music by Keith Fullerton Whitman.
Dieter and Bea work together since 2008, and have been presenting performances combining Tagtool and dance around the world. For over a decade Dieter has perfected his performative style in different settings. His superb digital painting skills build on his education at the Academy of Fine Arts in Leipzig.
Dieter: https://www.diepuntigam.at/
Bea: https://www.urhof20.at/content/106/0/bea_von_schrader.htm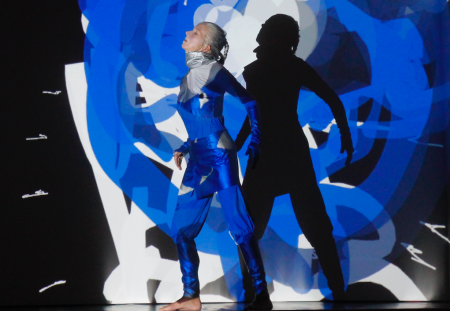 Sofía Córdoba 
Sofía Córdoba will join us at the Tagtool Convention! Born in Uruguay, she now lives in Italy as a filmmaker and audiovisual artist who integrates different artistic languages across multiple disciplines.
She'll come together with her friend and collaborator Lorenzo. He creates the soundtrack for their performance about the beginning and development of an alternative universe. We're all looking forward to seeing this duo in action!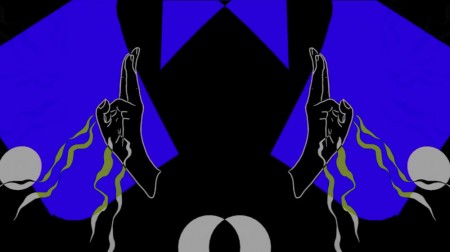 TAM . Theatre of Animation
We're very happy to welcome another extraordinary group of artists and performers to the Tagtool Convention: Theatre of Animation Art , or TAM in short, is a multidisciplinary ensemble all the way from Kiev, Ukraine. As an association of young theatre makers, they explore the field of animation in theatre by mixing puppetry, experimental music and visual art. Since 2016 they havre created several different theatre projects, such as street performances with huge puppets.
At the convention they will show the performance "Self-portrait", a work-in-progress performance of "TAM" and "Minimum" (a solo project by Olena and Sergij) and it is about human personality. It is based on the documental electronic music, that has a museum guide record about Rembrandt as the biggest master of self portraits. Using Tagtool and theatrical animation they draw a parallel from Renaissance self-portraits to modern selfies. They explore idea that portrait is the imprint of a person, a frozen moment of life, which is a story by itself.
Olena Avdieieva (Tagtool)
Sergij Avdieiev (Music)
Olga Pinaieva (Actor)
Katerina Tushder (Director)
T.A.M. on Facebook: https://www.facebook.com/tamtheatreua/ 
T.A.M. on Isntagram: https://www.instagram.com/tamtheatre/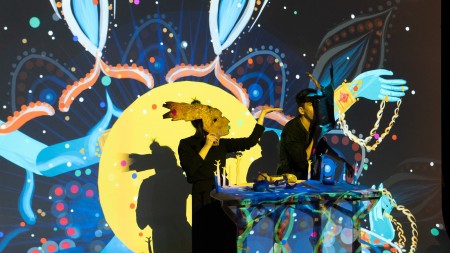 Ilan Katin
Also with us at the convention, our friend and partner Ilan Katin! Ilan is a Berlin based artist with his roots in the USA and Israel who currently makes non-figurative drawings, occasionally collaborates with musicians doing live visual performances, and sometimes ventures into the creation of installations. At the convention he will show a solo piece called Vocoline, a semi-improvised surrealist story telling using voice and live drawing.
Homepage: https://www.ilankatin.com/about/
Instagram: https://www.instagram.com/ilan_katin/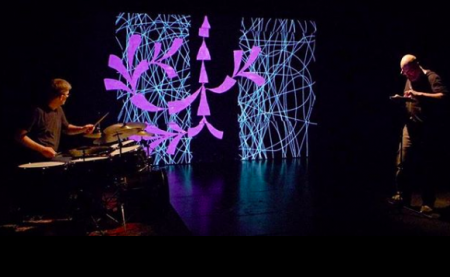 ***************************************